www.monumentaustralia.org.au
Dear Monument Australia visitors, we are a self-funded, non-profit organisation, dedicated to recording monuments throughout Australia. Over time the costs of maintaining this website have risen substantially (in fact they are probably larger than those of many companies who exist for profit). In the past we have borne all the costs associated with maintaining the website but we are now having difficulties in paying the monthly expenses.
If Monument Australia is useful to you, please make a donation to keep this historical and educational resource available. Your help would be greatly appreciated.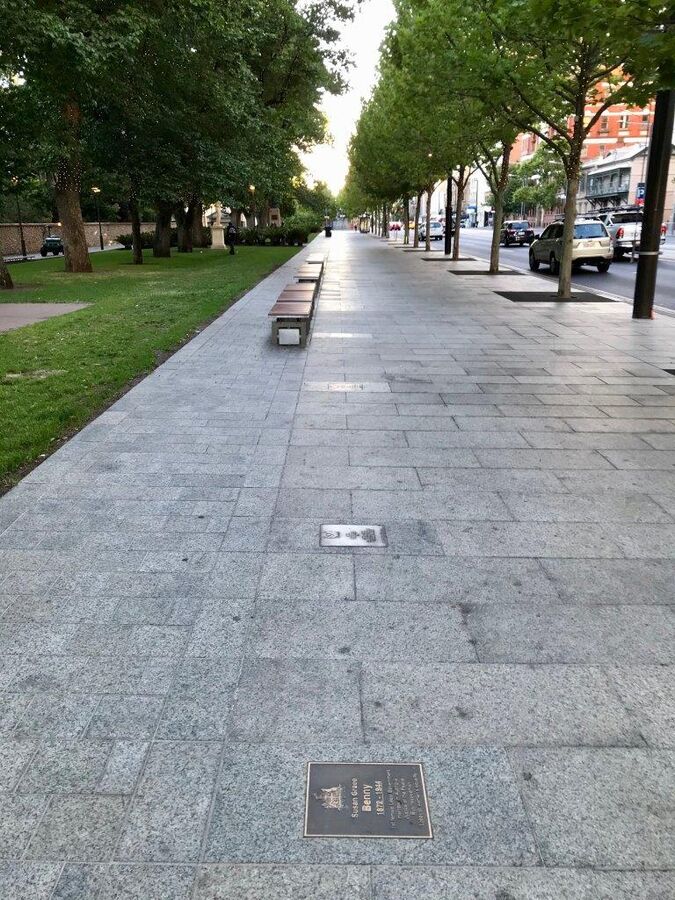 28-November-2020
Photographs supplied by Stephen Warren
In 1986 in South Australia`s sesquicentenary year, the Jubilee 150 Board decided to honour a selection of men and women who have made significant contribution to the State`s progress.
Bronze plaques were laid in the footpath of North Terrace and are arranged in alphabetic order, and stretch from King William Street to Pulteney Street along the north side of North Terrace.The walkway starts at the South African War Memorial, and passes in front of Government House, the National War Memorial, the State Library, the Museum, the Art Gallery and the University of Adelaide.
The plaques feature the names, dates and occupations of 169 eminent South Australians, many of whom gained national or international recognition for their work. The eminent South Australians are :-
Abraham Tobias Boas (1842-1923) First Rabbi in South Australia
Adelaide Laetitia Miethke OBE (1881-1962) Educationalist
Adolf John Schultz (1883-1956) Educationalist and first Principal of Adelaide Teachers` College
Alexander Maurice Ramsay C.B.E (1914-1978) General Manager of South Australia Housing Trust
Alexander Tolmer (1818-1890) Police Commissioner & initiator of the gold escorts
Alexandrine Seager (1870-1950) Founder of the Cheer-Up Society
Alfred Edward Gerard (1877-1950) Electrical Merchant and worker for Aboriginal Welfare.
Alfred Hannaford M.B.E (1890-1969) Inventor and Manufacturer of agricultural machinery
Alfred Hermann Traeger O.B.E (1895-1980) Inventor of the pedal wireless
Alfred Muller Simpson (1843-1917) Manufacturer
Amos William Howard (1848-1930) Nurseryman and Promoter of subterranean clover
Andrew Alexander Kirkpatrick (1848-1928) Printer and Politician
Arnold Edwin Victor Richardson C.M.G. (1883-1949) Agricultural Scientist
Arthur Percy Sullivan V.C ( 1896-1937) Victoria Cross recipient
Arthur Seaforth Blackburn V.C., C.M.G. (1892-1960) Victoria Cross recipient
August Kavel (1798-1960) Lutheran migrant leader.
Augustus Short (1802-1888) Educationalist and the first Anglican Bishop of Adelaide
Bejah Dervish (c.1862-1937) Camel driver
C. J. Dennis (1876-1938) Poet and journalist
Captain Charles Sturt (1795-1869) Soldier and Explorer who was the first to chart the River Murray
Catherine Helen Spence (1825-1910) Writer and Social Reformer
Cecil Thomas Madigan (1889-1947) Geologist and Explorer
Charles Allan Seymour Hawker (1894-1938) Pastoralist & Parliamentarian
Charles Cameron Kingston P.C.,Q.C (1850-1908) Lawyer, Parliamentarian & Federalist
Charles Duguid O.B.E (1884-1986) Medical practitioner and worker for Aboriginal advancement.
Charles Pearcy Mountford O.B.E (1890-1976) Anthropologist
Charles Witto-Witto Cawthorne (1854-1925) Music seller and concert manager
Christopher Rawson Penfold (1811-1870) Pioneer Vigneron.
Colin Sidney Hayes A.M., O.B.E.(1924-1999) Racehorse trainer and breeder
Colonel William Light (1786-1839) Surveyor and founder of Adelaide
Constance Muriel Davy O.B.E.(1882-1963) Psychologist and Educationalist
Dame Roma Mitchell A.C., D.B.E., C.V.O.,Q.C.(1913-2000) Jurist and Governor of South Australia
Dame Ruby Litchfield D.B.E. (1912-2001) Community worker and Charity organiser.
Daniel Moriarty (1895-1982) Footballer
David Dallwitz AO (1914-2003) Musician and Artist
David Fowler (1827-1881) Merchant
David Shearer (1850-1936) Manufacturer of agricultural machinery
David Unaipon (1872-1967) Aboriginal leader and Writer
Donald Allan Dunstan A.C.,Q.C (1926-1999) Lawyer & Premier of South Australia
Doris Irene Taylor M.B.E. (1901-1968) Founder and Organiser of Meals on Wheels.
Edmund William Wright (1824-1888) Architect
Eldred de Bracton Norman (1914-1971) Racing Car Designer and Driver
Essington Lewis C.H.(1881-1961) Industrialist and Director-General of Munitions during World War Two.
Frances Hardy Faulding (1816-1868) Manufacturing Chemist
Frederick May (1840-1897) Engineer and Manufacturer
George Elton Mayo (1880-1949) Pioneer in Human Relations and Management Studies
George Fife Angas (1789-1879) Merchant, Banker, Landowner and Philanthropist.
George Frederick Hassell (1869-1945) Printer and Publisher
George French Angas (1822-1866) Naturalist and Artist
George Gosse G.C. (1912-1964) George Cross Recipient
George Hall (1818-1881) Manufacturer of Soft Drinks
George Hannaford (1852-1927) Orchardist and Apiarist
George Henry Farr (1819-1904) Clergyman and Headmaster.
George Woodruffe Goyder C.M.G ( 1826-1898) Surveyor and Conservationist.
Gladys Elphick M.B.E.(1904-1988) Worker for Aboriginal Welfare
Gladys Ruth Gibson C.B.E (1901-1972) Educationalist and President of the National Council of Women
Harold Eustace Hill Ling (1907-1966) Manufacturer
Helen Mary Mayo O.B.E.(1878-1967) Medical Practitioner and Promoter of Child Health Services
Henry John (Harry) Butler (1889-1924) Aviator
Hooper Josse Brewster Jones (1887-1949) Musician and Composer.
James Arthur Prescott C.B.E (1890-1987) Founder of soil science in Australia
James Martin (1821-1899) Manufacturer and 'The Father of Gawler'
Jimmy James O.A.M (1913-1991) Aboriginal police tracker
Joachim Matthias Wendt (1830-1917) Silversmith.
Joergen Christian Jensen V.C. (1891-1922) Victoria Cross recipient.
Johann Gramp (1819-1903) Pioneer Vigneron.
John Abel McPherson (1860-1897) Union Official, First leader of the S.A Parliamentary Labour Party
John Anderson Hartley (1844-1896) Educationalist and First Inspector of Schools.
John Bishop O.B.E.,(1903-1964) Musician and first Artistic Director of the Adelaide Festival of Arts.
John Flynn O.B.E.(1880-1951) Founder of the Australian Inland Mission and the Royal Flying Doctor Service.
John Leak V.C (1892-1972) Victoria Cross recipient
John McConnell Black (1855-1951) Botanist.
John McDouall Stuart (1815-1866) Explorer and surveyor.
John Reynell (1809-1873) Pioneer Vigneron
John Ridley (1806-1887) Miller and Inventor of the Ridley Stripper.
John Stokes Bagshaw (1808-1888) Manufacturer of Agricultural Machinery
Joseph Ernst Seppelt (1813-1868) Pioneer Vigneron
Julia Warren Farr (1824-1914) Social worker
Julian Edmund Tenison Woods (1832-1889) Educationalist, Scientist and Co-founder of the Sisters of St Joseph
Kate Cocks M.B.E. (1875-1954) Welfare Worker, First women Police Constable-British Empire
Lady Jean Bonython O.B.E. (1891-1977) Community Worker for women and children
Lawrence Allen Wells O.B.E. ( 1860-1938) Explorer and Surveyor
Lawrence Carthage Weathers V.C. (1890-1918) Victoria Cross recipient
Lillian Daphne de Lisser (1885-1967) Kindergarten pioneer
Lionel Colin Matthews G.C.M.C. (1912-1944) George Cross recipient
Lord Florey O.M.(1898-1968) Medical Scientist and Nobel Prize winner.
Luther Robert Scammell (1858-1940) Manufacturing Chemist
Margaret Graham (1860-1942) Nursing Sister and Army Matron
Margaret Preston (1875-1963) Artist
Marjory Jackson Nelson A.C., M.B.E. (born 1931) Athlete and former Governor of South Australia
Mary Jane Warnes M.B.E. (1877-1959) Founder of the South Australian Country Women`s Association
Mary Lee (1821-1909) Suffragist
Mary MacKillop (1842-1909) Educationalist and Co-founder of the Sisters of St Joseph
Mary Penfold (1809-1873) Pioneer Vigneron
May Mills O.B.E. (1890-1984) Educationalist and Sports Administrator
Murdoch Stanley McLeod (1893-1981) Businessman
Norman Barnett Tindale A.O. (1900-1993) Anthropologist
Norman William Jolly (1882-1954) Forestry Scientist
Padre Arthur Thomas Strange O.B.E (1893-1987) Founder of the Helping Hand Centre
Paris Nesbit K.C (1852-1927) Barrister
Percy Raymond Begg (1898-1983) Pioneer Orthodontist
Peter John Badcoe V.C. (1934-1967) Victoria Cross recipient
Peter Nelson (1931-1977) Cyclist
Peter Smith Dawson (1882-1961) Singer
Peter Waite (1834-1922) Pastoralist and Philanthropist
Phillip Davey V.C., M.M (1896-1953) Victoria Cross and Military Medal Recipient
Reginald Roy Inwood V.C (1890-1971) Victoria Cross Recipient
Richard Bowyer Smith (1838-1919) Inventor of the stump-jump plough
Richard Hamilton (1792-1852) Pioneer Vigneron
Richard Moritz Schomburgk (1811-1891) Botanist, Horticulturist and Director of the Adelaide Botanic Garden
Robert Barr Smith (1824-1915) Businessman and Philanthropist
Ronald Max`y Sharp (1905-1972) Baseballer
Samuel Smith (1812-1889) Pioneer Vigneron
Samuel Thomas Gill (1818-1880) Artist
Sir Archibald Grenfell Price C.M.G.(1892-1977) Geographer, Historian and Educationalist
Sir Charles Heavitree Todd K.C.M.G (1826-1910) Astronomer, Meteorlogist, Telegraph & Telephone Engineer
Sir Claude Gibb K.B.E. (1898-1959) Engineer and Industrialist
Sir Donald Bradman (1908-2001) Cricketer
Sir Douglas Mawson O.B.E. (1882-1958) Geologist and Antarctic Explorer
Sir Edward Hayward (1903-1983) Businessman and Originator of the Adelaide Christmas pageant
Sir Edward Holden (1885-1947) Motor Car Manufacturer and Industrialist
Sir Edward Stirling C.M.G.(1848-1919) Surgeon, Scientist, Educationalist and Parliamentarian
Sir Edwin Thomas Smith K.C.M.G. (1830-1919) Brewer, Parliamentarian and Philanthropist
Sir George Brookman (1850-1927) Businessman and Philanthropist
Sir George Strickland Kingston (1807-1880) Architect, Engineer, Surveyor and Parliamentarian
Sir Hans Heysen O.B.E. (1877-1968) Artist and Conservationist
Sir Henry Ayers G.C.M.G (1821-1897) Businessman, Banker and Parliamentarian
Sir Henry Newland C.B.E., D.S.O. (1873-1969) Pioneer Plastic Surgeon
Sir Hubert Wilkins M.C* (1888-1958) Explorer and Adventurer
Sir Hugh Cairns K.B.E. (1896-1952) Neurosurgeon
Sir John Cleland C.B.E. (1878-1971) Pathologist and Naturalist
Sir John Melrose (1860-1938) Pastoralist and Philanthropist
Sir Keith Macpherson Smith K.B.E. (1890-1955) One of the pilots of the first aeroplane flight from England to Australia
Sir Kenneth Wills K.B.E., M.C. (1896-1977) Businessman, Soldier, and Controller of Allied Intelligence Bureau during World War Two
Sir Langdon Bonython K.C.M.G. (1848-1939) Parliamentarian, Newspaper Proprietor and Philanthropist
Sir Lloyd Dumas (1891-1973) Newspaperman
Sir Mark Oliphant A.C.,K.B.E. (1901-2000) Scientist and former Governor of South Australia
Sir Mellis Napier K.C.M.G. (1882-1976) Chief Justice of South Australia
Sir Richard Baker K.C.M.G (1841-1911) Barrister,pastoralist and parliamentarian
Sir Robert Chapman C.M.G.(1866-1942) Engineer
Sir Robert Helpmann C.B.E. (1909-1986) Actor, Dancer, Producer and Choreographer
Sir Robert Richard Torrens G.C.M.G (1812-1884) Land titles reformer
Sir Roland Jacobs (1891-1981) Businessman and Philanthropist
Sir Ross Macpherson Smith K.B.E., M.C*,D.F.C.**,A.F.C (1892-1922) One of the pilots of the first aeroplane flight from England to Australia
Sir Samuel Davenport K.C.M.G. (1818-1906) Parliamentarian & Promoter of Industry
Sir Samuel James Way Bart.,P.C (1836-1916) Chief Justice of South Australia
Sir Sidney Kidman, (1857-1935) Pastoralist and Philanthropist
Sir Thomas Elder K.C.M.G. (1818-1897) Pastoralist and Philanthropist
Sir Thomas Playford G.C.M.G (1896-1981) Premier of South Australia
Sir Walter Crocker, K.B.E (1902-2002) Diplomat & Australian Ambassador
Sir Walter Watson Hughes (1803-1887) Pastoralist and Mine-owner
Sir William Henry Bragg O.M.,K.B.E. (1862-1942) Research Scientist, Teacher and Nobel Prize winner
Sir William Lawrence Bragg C.H., M.C. (1890-1971) Research Scientist, Teacher and Nobel Prize winner
Sir William Mitchell K.C.M.G.(1861-1962) Philosopher and Chancellor of the University of Adelaide
Thomas Currie Derrick V.C., D.C.M.( 1914-1945) Victoria Cross recipient
Thomas Hardy (1830-1912) Pioneer Vigneron
Thomas Quinton Stow (1801-1862) Founder of the Congregational Church in South Australia
Tom Elder Barr Smith (1863-1941) Businessman and Philanthropist
Tom Price (1852-1909) First Labour Premier of South Australia
Victor York Richardson O.B.E.(1894-1969) Sportsman
W.H. Gray (1808-!896) Pioneer colonist. chief constable 1837.
Walter Gill (1851-1929) Forestry administrator
Walter Hervey Bagot (1880-1963) Architect
William Anstey Giles (1860-1944) Surgeon
William Charles Douglas Veale C.B.E.,M.C.,D.C.M, (1898-1971) Soldier, Engineers, Town Clerk of Adelaide
William Christie Gosse (1842-1881) Explorer and surveyor
William Henry Kibby V.C (1903-1942) Victoria Cross recipient
William Muirden (1872-1940) Founder of Muirden College
William Ranson Mortlock (c.1821-1884) Pastoralist and Parliamentarian
William Richard Randell (1824-1911) Pioneer of River Murray paddle-steamers
Captain` Henry Richard Hancock (1836-1919) Mine superintendent
Location
Address:
North Terrace, Between King William & Frome Roads , Adelaide, 5000
State:
SA
Area:
AUS
GPS Coordinates:
Lat: -34.92143
Long: 138.600558


Note: GPS Coordinates are approximate.
View Google Map
Details
| | |
| --- | --- |
| Monument Type: | Plaque |
| Monument Theme: | Government |
| Sub-Theme: | State |
| Actual Event Start Date: | |
| Actual Event End Date: | |
Dedication
| | |
| --- | --- |
| Actual Monument Dedication Date: | Sunday 21st December, 1986 |
Source:
MA
Monument details supplied by Monument Australia - www.monumentaustralia.org.au